The 2023 Finishers Medal will be the Iconic Ron Jon Surf Shop building! A picture is coming soon!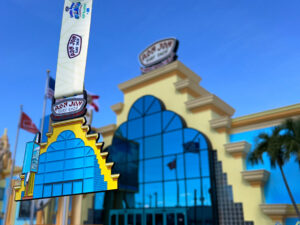 2023 Finisher Medal – Ron Jon Surf Shop
Step One: Register
The 2015 – 2023 Cocoa Beach Half Marathon virtual runs are now available! International divisions are now OPEN ! If you are an international runner please use the second link to register.
Once you have registered, you can begin running the distance you registered for. Make sure to save your run proof for your submission. Please see the FAQs for acceptable forms of proof.
Deadlines to submit: 
There is no deadline to submit your virtual run proof. 
Instructions for your submission:
Please submit all of the required information to [email protected]. Once you have submitted this information, our staff will confirm your email within 3-5 business days.
All of the information below is REQUIRED when submitting your run proof.
Event Name (AND YEAR) + Distance:
First + Last Name:
DOB:
Mailing Address: 
Run Proof (please see below for acceptable forms):
Once you have submitted your run proof to [email protected] and your submission has been approved, you will be added to our mailing list.  Virtual packets take 2-3 weeks to be mailed out.
Q:  What do you mean by run proof?   
A: All runners who are registered for the virtual event must send proof that they ran. There are apps and devices that will track your run for you. The most popular apps / devices we see in our submissions include but are not limited to, Fitbit app, Garmin, a treadmill, and MapMyRun.
Q:  Does the distance have to be run all at once? 
A: Runners can break the total distance into as many individual runs as desired. The only requirement is that when added together, the distance of all the runs equals the distance you registered for.
Q:  What swag will I receive? 
A: All runners will receive a finishers medal and bib. 
Q: Can I purchase a shirt?
A: YES! Please email us at [email protected]
Q:  What is the minimum age for the virtual run? 
A: There is no minimum age for the virtual run
[/vc_column_text][/vc_column][/vc_row]