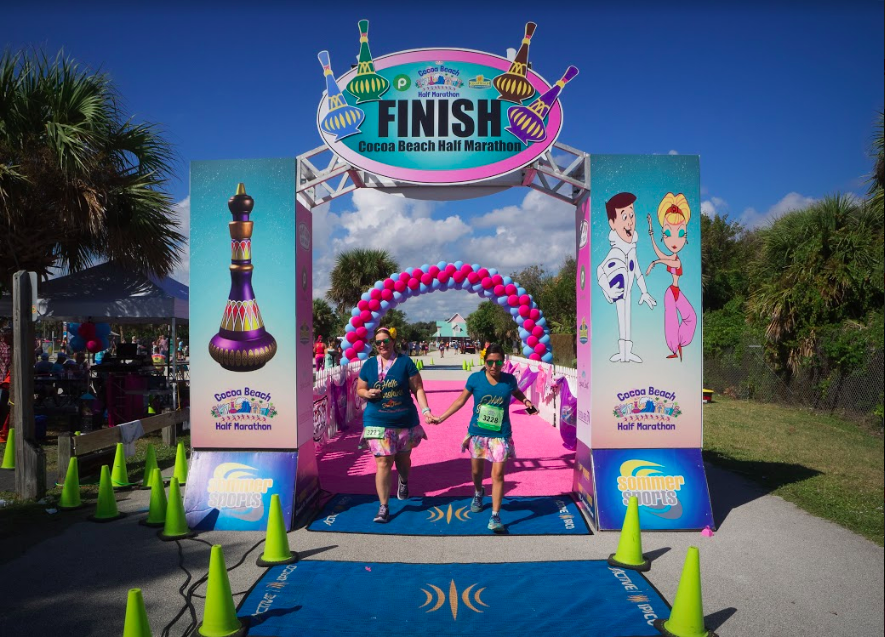 Who can run?
Minimum age to run is 12 years old, with an accompanying adult. There is a 3 hour course time limit. If you exceed this time, you will be asked to move into the sidewalk.
What is the time limit?
3 hour time limit to run the course. NO WALKERS ALLOWED IN THE HALF. Only allowed in 10K course
How do I know if I am registered?
The name of our registration platform is RunSignUp. Please check your inbox or spam folder for "RunSignUp registrations" or "RunSignUp receipt"
How are runners getting to the start line for the half marathon?
We are going to be busing all runners to the start line from the International Palms Resort parking lot, OR they can be dropped off at Hangar's beach by friends & family (there is no parking at the start line).
I can't make it, how can I defer?
NOTICE: Transfers to the virtual race can be made. The last day to switch without a fee is October 8th at 11:59 pm.
Starting October 9th at 12:00 am, We will be charging a $15 fee to transfer to the virtual race.
*Virtual run packets do not include event race t-shirts or hats. Only bib and finisher medal
Free deferments can be made up until September 22, 2023 @ 11:59pm. After this, a $35 fee will be charged to Defer from this year's race to next year's event. With insurance, timing and sanction fees already being paid, it is necessary to apply these charges. Head over to our registration page to find out more. Online deferments will be accepted until October 18th, 2023 @ 11:59pm. After this date, no deferments will be accepted.
Division changes can be made via email until Friday, October 20th @ 5pm. After this time, all division changes must be made in person at packet pickup on Saturday, October 21st. Once packet pickup closes on Saturday, no more division changes can be made.
When is packet pickup?
Saturday October 21, 2023. 11am – 5pm
Primary Packet Pick-Up
LOCATION TBD
Race Morning: Sunday, October 22, 2023
Race Day Packet Pickup: 5AM-7:15 AM
LOCATION TBD
Cocoa Beach Challenge Questions
What's the special challenge medal for 2023?
TBD
Can I do both virtually?
Absolutely! Just remember that registration is separate.
https://smoothrunning.org/cocoa-beach-10k-half-marathon-virtual-run
Can I do just one virtually & still get the challenge medal?
Absolutely! Just register for each event separately & follow the submission instructions.
How will I receive my challenge medal (how will you know we did both)?
The Fall into Winter 5K is our race partner. We will receive all the run results/data in hard copy after the 5K has ended. Once you cross the finish line on SUNDAY at the Cocoa Beach Half Marathon. Come visit us at the challenge booth at the finish line area and we will cross check your name from the list.
As for virtual, we will receive the 5K virtual data. If you are running the 5K virtually and doing the 1/2 marathon in person, PLEASE MAKE SURE TO DO SUBMIT YOUR 5K RUN BEFORE OCTOBER 31st 2023. We cannot give you the challenge medal UNTIL BOTH RUNS ARE COMPLETED.
We will mail your the medal/s once both runs are completed.
Any other info please contact [email protected]
Please understand that MORE INFO ON PARKING, START TIMES, , ETC will be E-MAILED 2 weeks before race day.